The 3D Gait Analysis System is an innovative health solution helping prevent and treat running, walking and work related injuries.
Effective treatment requires accurate assessment. Our biomechanical analysis uses state of the art 3D technology to provide you with a scientifically accurate gait assessment. The 3D motion cameras and software system captures and accurately measures your movement patterns in all three planes at the ankle, knee and hip joints. It is the most accurate tool for running and walking injuries in the world. This information combined with our clinicians' expertise will result in a treatment program tailored to your needs.
We want everyone to enjoy their athletic pursuits pain free. Using this state of the art 3D Gait Analysis System and the science of biomechanics, we can determine the root-cause of your pain by looking at all the pieces of the injury puzzle.
Here is a sample video of a client running on the treadmill:
A personalized and easy-to-understand report outlines your gait analysis results and provides an overview of the steps needed to optimize rehabilitation and/or prevent a running injury.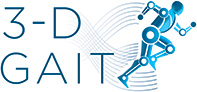 Align Orthotics and Rehab is a research partner with the University of Calgary contributing to world-class research along with clinics, hospitals and universities around the world.
For more information please visit www.3dgaitanalysis.com.